Our library has richest collection of Books, Journals, Back volumes, Encyclopedias, Biographies, Subject and General Dictionaries, CDROMs, Videos, e-Resources, Theses and Dissertations. The Library is located in the much spacious fully dedicated third floor of the building. Library has Stack room, Reading Hall, Reference Section, Periodical Section, Circulation Counter, Browsing section, Reprographic section and a separate Research cell and Reading Carral. The Libraryworking hours is from 9.30A.M. to 5.00 P.M. on every working day.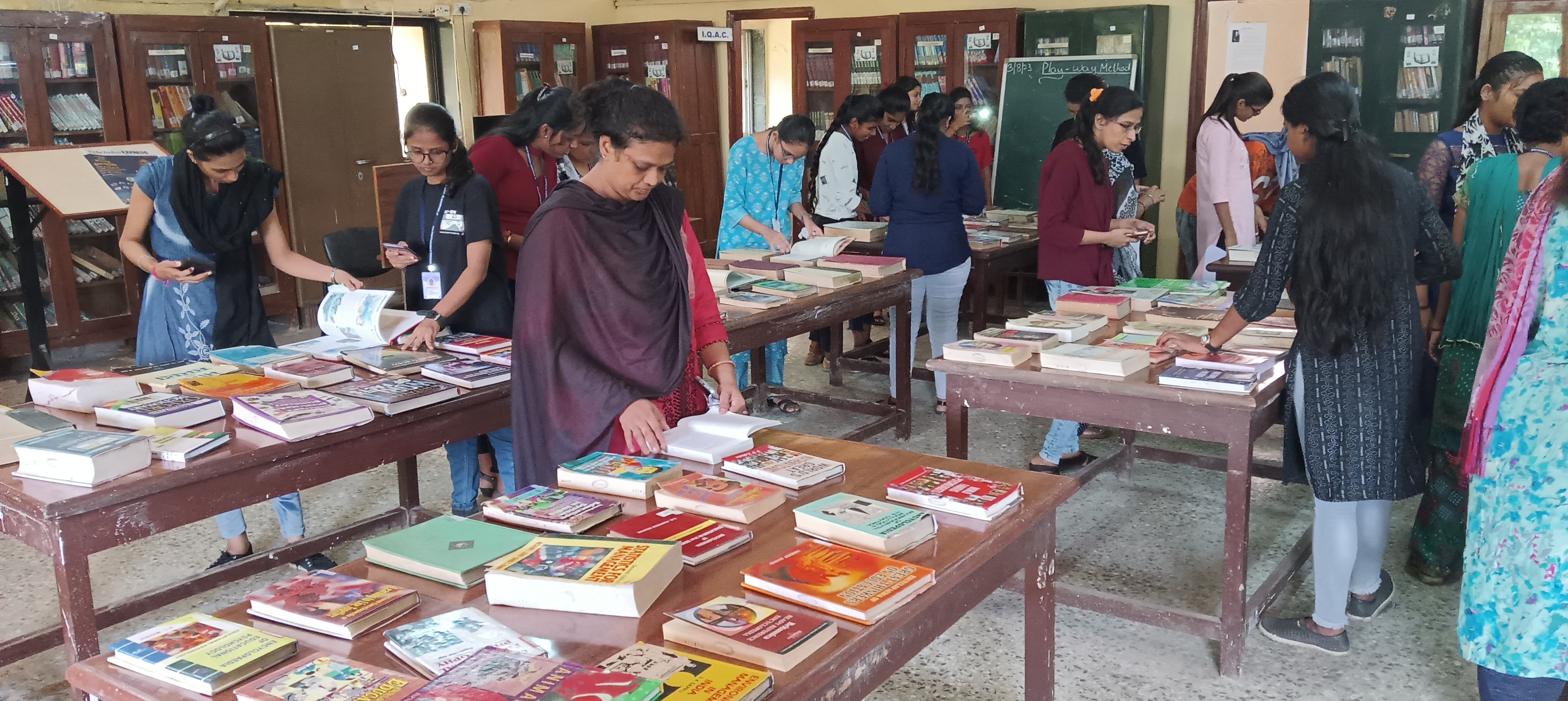 Library Collection
It has a collection of more than 26520 books which includes Textbooks, General books, Reference books, 540 Bound volumes of Periodicals, Serial publications, 485 Dissertations, 100 Maps and charts. It is subscribing around 32 Journals/Periodicals and 10 daily newspapers. Our library is a member of UGC-INFLIBNET's "N-LIST" consortium since 2005 for accessing various types of e-resources.
Subjects Covered
The library collection includes various resources on Education, Science Education, Value Education, Computer Science, Philosophy, Psychology, Sociology, Educational Management and Evaluation, Research Methodology and Statistics, Inclusive Education, Science subjects, Social Studies and Humanities, Library & Information Science, Books on different languages like, English, Hindi, Marathi etc.
Library Automation
The library is computerized and automation of all its operations with Bar Code enabled applications. The Library is using SOUL (SOftware for University Libraries) which is the state of art of software developed by UGC- INFLIBNET for unique range of user services.
Library Membership
All students, faculty members and employees of the college are eligible for membership of the library. The registered members are issued Borrowers card to borrow books and other resources. College library also offers external members for those who are pursuing Higher Education.
Library Services
The Library provides following Services:
The library follows an Open Access System
Reference Services
Circulation Services (Issue/Return etc.)
Free Internet Services
Reprographic Services (Xerox) on payment basis
Web enabled Online Public Access Catalogue (Web OPAC) for documents available in the library
Newspaper Clippings on education and related topics
Book Bank services
Inter-Library-Loan services on request
Reservation of desired books / resources
Bibliographic Instruction to the needy readers.
Project assistance
Extension services
Guidance and consultancy services for desired students of BLI.S, and MLIS and new library professionals.
Library Best practices
Our Library hasthe following Innovative Practices
Articles Indexing Initiatives
Book Exhibitionon various themes
Use of Suggestion Box
Rules and Regulations
The college library may be used by the following categories of members.
Registered students and Staff members of the libraryPersons doing Higher Education / Research or Working for a project under the guidance of any member of the teaching staff of the college or any other Institute.
Loan Privileges and period of loan from the college library are according to the category of student and staff.
Reference books such as Dictionaries, Encyclopedias, Yearbooks and also those books, which are marked 'Reference', are not to be lent out.
Periodicals in general are not to be lent out and newspapers are not to be removed from their respective places.
Reference books taken against identity cards for reading in the library are to be returned on the same day.
The loss of library cards should be reported to the Librarian immediately. For more details can be obtained from : library@sscoe.edu.in
E-Resources @N-LIST
You may search e-books or e- journals
1) REPOSITORY OF INDIAN THESES
4) NCERT E-RESOURCES - DIKSHA&NISHTHA
7) LINKS TO EDUACTIOANL GATEWAY
9) ONLINE PUBLIC ACCESS CATALOGUE